Message from the President
Aiming for product creation as being able to have an appreciation from customers!!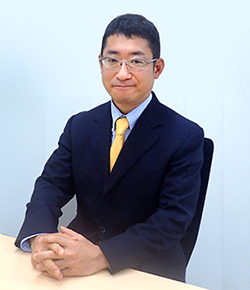 In this times where things are overflowing, while there're many products pursuing only immediate profits, we "Japan Algae" have been making products that can really contribute to the health of customers since our establishment in 1980.
Our strength lies in being specialized in Spirulina, Organic Germanium, Spirulina pigment, Kumejima Enzyme Drink and sticking to quality and price thoroughly.
Among the current health food manufacturers in Japan, how many manufacturers are making products with their own factories? Most health food manufacturers do not have a factory, but the fact is that manufacturing is consigned to a separate company.
Since our company was founded, we have carried out quality control at our company, and we have been manufacturing our own company. The merit of having our own factory is that we can strictly stick to quality and make products. At the time of its establishment in 1980, it was tableting of Spirulina with a small tableting machine and producing organic germanium at the office like a research laboratory. Currently we have Yamanashi factory located in Minami Arupusu City, Yamanashi Prefecture as our main factory, Yokohama Spirulina pigment factory, Kumejima deep ocean water spirulina (Furouso) cultivation plant and Kumejima enzyme drink manufacturing plant, which we have reached to hold.
In the meantime, we have never made manufacturing at any other company, and we continue to manufacture high quality products by putting quality first, from management of all ingredients, sanitation management, analysis and so on. Through this accumulation, while in Japan, of course, we now have orders even from Asian countries, Europe and the United States.
There are many goods for health and beauty, but it is expensive or there is no change at all even if it is inexpensive, there is no meaning to take. Among such health foods, our Spirulina and Organic Germanium are highly evaluated by many customers as being able to sense the power of genuine, so the repeating rate of the direct sales department in the mail order industry is reached to high figures of 70%.
What is continuing this achievement is the result of what we have been pursuing thoroughly making products that customers can become truly healthy and the price range that can be continued, which are carried out by the quality control, cost reduction and the employee work as one at the factory which the former president, Masahiko Hara made. As a result, it was able to grow to a long-loved product, recognized from the world.
From now on, we would like to exist as a company who has a pride as a health food manufacture and distributes spreading splendor of spirulina and organic germanium to around the world.
And, we would like to provide the products to many people who have a healthy body for them being able to shine as their existence.
April, 2018
Tadashi Hara
President