Yunnan Tienchi(tablets)
"Tienchi Ginseng", also called Pseudoginseng, is grown and harvested over 3 to 7 years in the nature of Yunnan Province, China.
Its roots are so popular as to surpass Ginseng, and it is also called "King of Asian ginseng".
For our Yunnan Tienchi, we select and use only "the finest Tienchi" certified by Yunnan Pharmaceutical Inspection Center.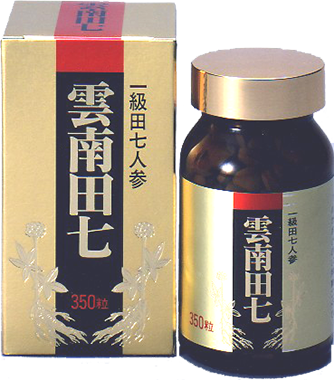 | | |
| --- | --- |
| Name : Yunnan Tienchi | Ingredients : Tienchi powder |
■Specification components and content(per 100g)
| | |
| --- | --- |
| Calorie | 331.2kcal |
| Protein | 7.6g |
| Fat | 0.6g |
| Sugariness | 66.3g |
| Sodium | 4.1mg |
| Dietary fiber | 15.1g |
| Ginsenoside Rb1 | 5.3g |
| Ginsenoside Rg1 | 4.9g |
| | List price |
| --- | --- |
| 350 tablets | JPY6,800 (base price) |
| | | |
| --- | --- | --- |
| Recommended dosage per day : about 10 tablets | Shipping fee excluded | Shelf life: 3 years |
Yunnan Tienchi (capsule)
Easy-to-take capsule type.
Among Tienchi Ginseng, we carefully selected those containing a lot of natural organic germanium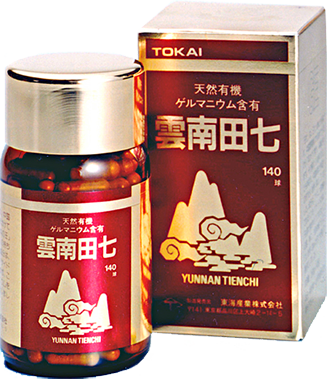 | | |
| --- | --- |
| Name : Yunnan Tienchi | Ingredients : Tienchi powder, Gelatin |
■Specification components and content(per 100g)
| | |
| --- | --- |
| Calorie | 331.2kcal |
| Protein | 7.6g |
| Fat | 0.6g |
| Sugariness | 66.3g |
| Sodium | 4.1mg |
| Dietary fiber | 15.1g |
| Ginsenoside Rb1 | 5.3g |
| Ginsenoside Rg1 | 4.9g |
| | List price |
| --- | --- |
| 140 capsules | JPY6,800 (base price) |
Recommended dosage per day:
3~5 capsules
Shipping fee excluded
Shelf life: 3 years