Organic Germanium Blended Cosmetic Products
GM CREAMⅡ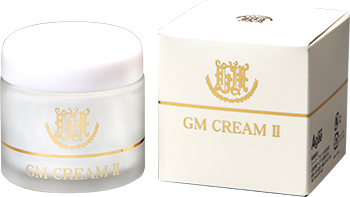 Keeping the solubility limit of 5.1% (maximum concentration) of Organic Germanium into the cream, α-arbutin is newly added. Maintain your stratum corneum with Germa, and control melanin with arbutin.
By adding the power of Germa which does not let aging feel on the skin, with the other active ingredients in the same formulation as before, this product has become a highly functional cream. Its aroma is also upgraded with the added rose flower extract. It is reborn into a cream easy to apply. Besides the function as nourishing cream, it can also be used for make-up base and skin troubles such as razor rash, rash, hangnail, and so on. This high concentration Germanium cream is a rescue team of skin trouble.
(No fragrance, no mineral oil, no paraben)
| | |
| --- | --- |
| Name | Cosmetics |
| Beauty ingredients | Organic Germanium, α-arbutin, Placenta extract, Coenzyme Q10, Hyaluronic acid, Collagen, Squalane |
| Net weight | List price |
| --- | --- |
| 50g | JPY6,800 (base price) |
GM CREAM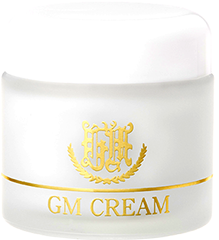 | | |
| --- | --- |
| Name | Cosmetics |
| Beauty ingredients | Organic Germanium, Placenta extract, Coenzyme Q10, Hyaluronic acid, Collagen, Squalane |
| Net weight | List price |
| --- | --- |
| 50g | JPY6,800 (base price) |
GM LOTION clear
This is a lotion containing 0.5% Organic Germanium.
GM lotion clear realized the blending amount much higher than 0.001% of general lotion's organic germanium.While softening the stratum corneum,
it puts Germa into the skin.
(No fragrance, no mineral oil, no paraben)

| | |
| --- | --- |
| Name | Cosmetics |
| Beauty ingredients | Organic Germanium, α-arbutin, Placenta extract, Coenzyme Q10, Hyaluronic acid, Vitamin C derivative, Collagen, Squalane |
| Net volume | List price |
| --- | --- |
| 150ml | JPY3,315 (base price) |
GM LOTION enrich
This is a lotion containing 0.5% Organic Germanium.
It is for those seeking a moisturizing feeling.
It prepares the stratum corneum to let the cream used next penetrate easily.
(No fragrance, no mineral oil, no paraben)

| | |
| --- | --- |
| Name | Cosmetics |
| Beauty ingredients | Organic Germanium, α-arbutin, Placenta extract, Coenzyme Q10, Hyaluronic acid, Vitamin C derivative, Collagen, Squalane |
| Net volume | List price |
| --- | --- |
| 150ml | JPY3,300 (base price) |
GM SOAP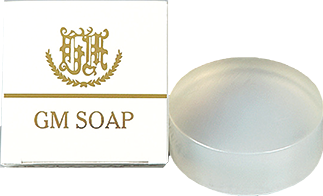 Organic Germanium is blended in high ratio. This is a luxurious, transparent beauty soap, unique to a manufacturer specialized in Organic Germanium. Germanium foam cleansing twice a day in the morning and the evening makes transparent, rich skin.
All oils of the soap raw material are made from vegetable oil, and the soap is made in the traditional kettle cooking method. Plant-derived Glycerin (moisturizing ingredient) is blended in a natural form, so the soap provides a moisturizing wash up.
Also, since the alcohol (alcohol by fermentation production method) used in the manufacturing process is removed from this product by long-term maturation, it can be used safely for sensitive skin as ethanol free product. No fragrance. No coloration.
| | |
| --- | --- |
| Name | GM SOAP |
| Ingredients | Soap base, Sucrose, Glycerin, Water, Ethanol, Repagermanium, Hydrolyzed collagen, Squalane, Hyaluronic acid Na, Phytic acid |
| Net weight | List price |
| --- | --- |
| 100g | JPY2,000 (base price) |
Germa Beauty Bath
(Bath additive)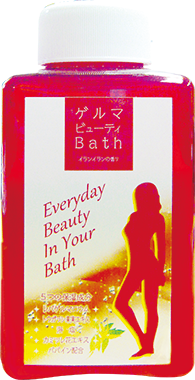 | Net weight | List price |
| --- | --- |
| 450g | JPY2,380 (base price) |
Lourdes' Flower
(Bath additive)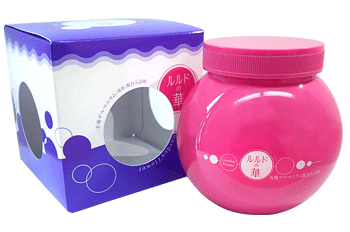 The content of Organic Germanium in "Lourdes' flower" is 4%. Since the recommended amount for one time is 20g, the amount of Organic Germanium per use is 0.8 g. Because the effect of Organic Germanium is semi-permanent, it is possible to use it repeatedly unless the dirt in hot water is concerned. Lourdes' flower blue color comes from the natural pigment extracted from Spirulina, so it is gentle and safe to the body.
| | |
| --- | --- |
| Name | Bath Cosmetics |
| Ingredients | Na sulfate, Dextrin, Na bicarbonate, Spirulina extract, Repa Germanium, Na citrate, Fragrance, Silica, Sodium Phosphate |
| Net weight | List price |
| --- | --- |
| 200g | JPY4,800 (base price) |